These are the TOP credible websites for the sci-fi genre,comic book movies/television shows and for the latest scoops,gossip and spoilers for the *spoiler whore* that lurks deep inside all of us.


Search Engines
AltaVista You know us as the Internet's original search engine.
Lycos One of the most visited hubs on the Internet reaching one out of every two web users.
Yahoo! With over half a million sites divided into more than 25,000 categories, Yahoo! is both browseable and searchable.
InfoSeek GO Network is a new brand that brings together the very best of the Internet in one, easy to use place.
Favorite Sites
MoviePoopShoot.com The infamous Kevin Smith,writer,aka:Silent Bob brings you the low down on comics,movies,DVD's,music and shit.
Whoosh! Dedicated to Xena:Warrior Princess
SciFi.com Dedicated to the Sci-Fi Universe!!
My X-Files forum: X-Files Refugees This forum is now an archive for everything related to the series.Will only be updated for the next X-Files film,being an X-philer since 1993 it was time to move on to other things!!
Gillian Anderson Web Site GAWS:The Official Site for Gillian Anderson
Better known as Agent Dana Scully from The X-Files!
***WITCHBLADE's OFFICIAL SITE*** Official site of TNT's Witchblade series,photos,message boards,episode guide,character bio's,screensavers and other cool stuff!!
*SUPERHERO HYPE* Find the latest news on Spider-Man,The Hulk,Wonder Woman,DareDevil and other Marvel and DC Comic Book movies that are in the works!!!!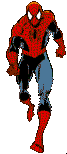 CONGRATULATIONS SPIDERMAN FOR RUNNING AWAY WITH A COOL 114+ MILLION IN THREE DAYS

**Dark Horizons** News,previews,spoilers of current and upcoming movies
Ain't It Cool News Herc specializes in revealing behind-the-scene information on films and television